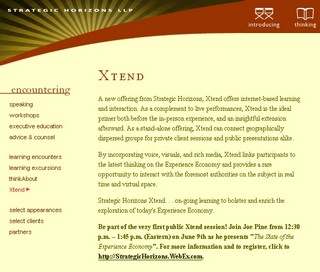 On June 9th, explore the current State of the Experience Economy with author Joe Pine in a live Xtend webcast. Sign up today, June 2nd, to take final advantage of the early registration rate.
Six years ago, Joe Pine and Jim Gilmore of Strategic Horizons LLP released their best-selling book The Experience Economy announcing the emergence of experiences as a distinct economic offering (pdf). Fast forward to today: many of their then-provocative insights have become conventional wisdom for businesses seeking real competitive advantage.
On Thursday, June 9, join Joe Pine online and learn what's happening now in the ever-changing Experience Economy. In this live web-based event called Xtend, Joe will share many of the new frameworks, key ideas, and best principles that have emerged since the release of the book. In addition, you'll discover just who is blazing paths for staging great new experiences, and how they're doing it. And with the help of the Xtend Guidebook, you'll take these insights and apply them to your own business. So whether you're new to the world of experiences, or looking to stay ahead of the pack, this is an excellent opportunity to enhance your knowledge of what's next in the Experience Economy and where it's taking you.