Phew: Alex Steffen, author of Worldchanging op Le Web3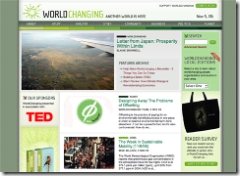 Alex Steffen van Worldchanging.com: wie is hij en wat doet ie?
Tjee, na Hans Rosling (bekijk de prachtige video) heeft de organisatie van Le Web 3 ook Alex Steffen vast weten te leggen. Hij is schrijver van het boek Worldchanging: A Users Guide for the 21st Century en CEO van Worldchanging.com. Ik heb het nog niet gelezen, maar het sluit zo goed aan bij de tijdsgeest als ik lees waar het over gaat:
"Worldchanging: A Users Guide for the 21st Century is a groundbreaking compendium of the most innovative solutions, ideas and inventions emerging today for building a sustainable, livable, prosperous future. From consumer consciousness to a new vision for industry; non-toxic homes to refugee shelters; microfinance to effective philanthropy; socially responsible investing to starting a green business; citizen media to human rights; ecological economics to climate change, this is the most comprehensive, cutting-edge overview to date of what's possible in the near future — if we decide to make it so."
Waar staat Worldchanging.com voor?
En Worldchanging.com staat hier voor:
"WorldChanging.com works from a simple premise: that the tools, models and ideas for building a better future lie all around us. That plenty of people are working on tools for change, but the fields in which they work remain unconnected. That the motive, means and opportunity for profound positive change are already present. That another world is not just possible, it's here. We only need to put the pieces together."
Het nieuwe tijdsbeeld: we moeten ZELF wat doen
Dat past natuurlijk allemaal weer perfect wat Ervin Laszlo pas geleden zei. We bepalen zelf wat er gebeurt. We moeten niet afwachten, maar iets doen. Te beginnen met het nemen van onze verantwoordelijkheid. We moeten onszelf niet buiten de natuur plaatsen, maar onszelf zien als onderdeel van het systeem. En dan nog wel een gesloten systeem, waar in principe niets uitgaat en niets in komt (behalve zonlicht). Met een dergelijk systeem moeten we dus anders omgaan. En daar gaat het meer en meer om. Prachtig dat op een dergelijke conferentie als Le Web 3 daar zelfs over gesproken wordt.
Maar David Weinberger en Marc Canter komen ook 😉
Ik ben blij dat ik ingeschreven heb op Le Web 3. Alleen al omdat Hans Rosling en Alex Steffen er spreken is het de moeite waard. Maar natuurlijk is het ook gaaf om Marc Canter en Davind Weinberger nu ook eens aan het woord te horen en al die anderen natuurlijk.