Videoblog: Internationalize at HAN – be inspired and go abroad!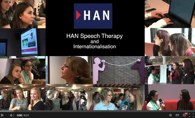 Canan vertelt (Nederlands gesproken) over haar bezoek aan een congres in Turkije, waar zij een taaltest heeft geïntroduceerd. Monique Nederhoed, medewerker International Office Nijmegen vertelt (Engels gesproken) wat belangrijk is als je buitenlandse stage of studieperiode wilt gaan volgen. Vervolgens aan het woord: Duitse studenten Elena, Isabelle, Anna en Juliane (Engels gesproken) over hun voorbereidingen op hun stage in Zuid Afrika en 2 Logopedie studentes uit Wenen (Julia and Elisabeth) over hun ervaringen met het studeren in Nederland (Engels gesproken).
www.han.nl/logopedie

Speech Therapy and Internationalisation at HAN University of Applied Sciences
In this video we meet students Speech Therapy from the HAN University of Applied Sciences in the Netherlands. They talk about going abroad.
Also two students from Vienna visiting the HAN for Speech Therapy are interviewed.
[pl_video video="youtube" id="ZN0Cd81q7vs"]