Who is holding the microphone next at Arnhem Business School?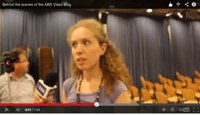 The ABS Video Blog is looking for a new face. Pascal and Eline take a look behind the scenes of the making of the videos to discover how the process of creating a video works and what kind of person they are looking for.
Interested? More information? Read this blogpost, contact Diana or Nevena or give me some reactions in the comments. It is a pleasure to meet you and see how we can work together as I am the cameraman, editor and blogger you work with.