Nationaal Congres Onderwijs & Social Media: samenvatting en conclusies (2)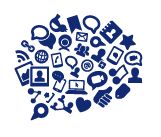 Even voor de volledigheid zet ik hier mijn samenvatting hier neer omdat het board niet altijd werkt.
De Storify met daarin tweets, presentaties, video's, foto's en links staat in een vorige posting.
Studenten:
studenten op sociale-mediagebied conservatief en onzeker
How can we have an impact on the world if we're not talking their language or where they hear?
Communicatie en marketing:
communicatiestrategie verweven met social media
Toevallige uitingen van marketing afdelingen doen er niet meer toe
Marketing, onderwijs en onderzoek staan niet meer op zichzelf. Ze zijn verbonden en versterken elkaar
Social media strategie:
tools daarom geen strategie
communicatiestrategie verweven met social media
why, what, how
Gewoon Doen!
moet 24/7 bemand worden
actief studenten zoeken via social media
ga met studenten in gesprek via social media
Have fun playing
studenten leren omgaan met social media, online reputatie, personal branding
dialoog met studenten over mediawijsheid
Social media:
imago opbouwen
relatie opbouw
Niet meegaan vergroot de kloof tussen instelling, student en de wereld
is geen hype, want te zeer bij menselijke aard
vervangen belang van websites
engagement, marketing and reputation
Zit het al in jouw systeem om alle informatie die je hebt, te delen
voor docenten irt professionele identiteit: goed ook om eens uit de believers inner circle te stappen
gebruik studenten: facebook stijgt sterk, helft kwiteert, Hyves van 75% naar 25%
not about communication but about coordination
Ask not what it can do for you but what you can do for it
How can education be changing it or have impact on it?!
Gedeelde waarden en interesses binden
Can we afford no to get involved?
Reputatie:
wordt niet bepaald door com afd., maar door studenten, docenten
Social media vervangen belang van websites
Current student best ambassador for a potential student
being good all the time
Open courseware:
an increase in the number of international PhD students
Europa loopt ver achter
goed voor PR van universiteiten
The opposite of open is not closed but broken
Open Leadership: lees The Cluetrain Manifesto
Docent:
samen met studenten aan de slag
Studenten willen de docent als persoon ervaren
Onderwijs móet aan de slag met sociale media
Willen universiteiten wel luisteren
Relaties:
build a relationship
do you care
van "transactional relationships" naar "relationships of relevance and context"
Thank You Economy: Terug naar de mentaliteit van de cornershop
Twitter:
maakt hogeschool transparanter en zorgt voor verbinding
niet als zendmedium maar als dialoog
eerstejaars liever zendtweets, tweedejaars liever dialoog
Professionaliseren:
op de hoogte blijven
uitwisselen en netwerken
profileren door delen expertise
samenwerken projecten