Videoblogs: from HAN to Oxford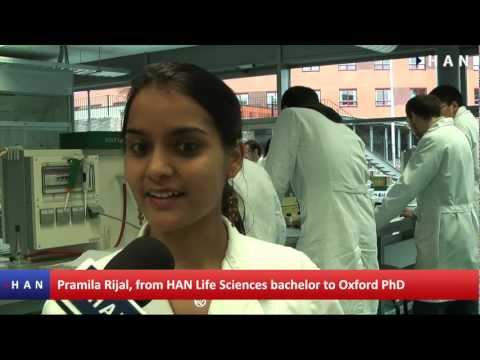 Vierdejaarsstudente Pramila Rijal van de internationale opleiding Life Sciences heeft de NDM Prize Studentship gekregen. Hiermee verwerft zij een plaats voor promotieonderzoek op The Weatherall Institution of Molecular Medicine van de Universiteit van Oxford.
Pramila gaat na haar afstuderen bij de HAN voor haar PhD immunologisch onderzoek verrichten, onder leiding van Prof. Alain Townsend.
De uit Nepal afkomstige Pramila Rijal volgt bij de HAN sinds 2008 de bacheloropleiding Life Sciences, de Engelstalige opleiding op het gebied van biochemie. Voor haar afstudeerstage verwierf zij een plek in het laboratorium van het Weatherall Institution of Molecular Medicine (WIMM), dat deel uitmaakt van de Universiteit van Oxford.
Onder de indruk
Sinds september doet zij daar onderzoek naar de isolatie en karakterisering van menselijke monoklonale antilichamen tegen het Influenza A-virus (het griepvirus). Haar supervisor en collega's in het lab waren zo onder de indruk van Pramila's prestaties, dat zij haar stimuleerden mee te dingen naar de NDM Prize Studentship.
Pramila Rijal: 'Mijn supervisor en mijn laboratoriumcollega's hebben me ontzettend geholpen bij het voorbereiden van mijn presentatie. Toen ik het bericht met de uitslag kreeg, voelde het alsof ik ging vliegen. Ik ben zo blij dat ik op dit laboratorium mag werken. Zo'n kans krijg je maar zelden!'