Videoblog: Music Shoes HAN CMD studenten bij opening The People of the Labyrinths Arnhem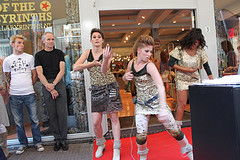 Heerlijk weer, heerlijke mensen, heerlijke stofjes, prachtige winkel in een prachtige straat. Wat wil je nog meer?
Nou misschien wel de Music Shoes.
Je ziet alle ingrediënten in onderstaande video. Let speciaal op de schoenen. En dan op de schoenen met draadjes: de Music Shoes. Aan de voeten van de benen van de danseressen van Introdans. Want die schoenen maken de muziek. Door middel van druksensors en de bewegingen van de danseressen wordt de muziek gecreëerd. Niks geen mp3-tje dus of cd-tje. De muziek komt uit de schoenen en de benen!
Een bijzonder project van HAN studenten Communicatie & Multi-media Design van de Informatica, Media en Communicatie tak van de HAN.