Fotoblog: First Lego League bij HAN HLO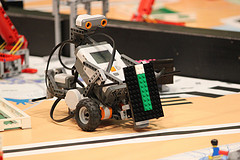 Hieronder de foto's van de voorronde van de First Lego League die gehouden werd bij de HAN HLO in Nijmegen. De teams van basisschoolleerlingen moesten een presentatie houden, hun teamwerk laten zien en een parcours met een zelf gebouwde en geprogrammeerde robot afleggen.
Klik op een foto voor een vergroting. Daarna kun je vooruit of achteruit door de foto's bladeren. De set is ook te bekijken in het Flickr foto-archief of hierboven in het menu onder foto's.
[miniflickr photoset_id="72157625462643995″]Foto's First Lego League bij HAN HLO[/miniflickr]