Foto: Nederlands studenten winnen Wozzie Award: €10.000 voor schone tuktuk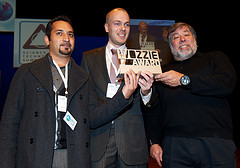 EcoTuk wint Wozzie Award 2010, originally uploaded by Hans on Experience.
Apple-oprichter Steve – The Woz – Wozniak heeft op de Meet the future, Science & Technology Summit 2010 de eerste Nederlandse Wozzie uitgereikt.
De prijs voor het beste bèta-idee ging naar vier studenten van de Hogeschool van Arnhem en Nijmegen die gezamenlijk de EcoTuk hebben ontworpen. De Eco Tuk is een schone variant van de traditionele tuktuk, het populaire vervoermiddel dat in veel Aziatische steden bijdraagt aan ernstige luchtvervuiling. De studenten hebben een bouwpakket ontwikkeld waarmee de gemotoriseerde riksja's eenvoudig geschikt kunnen worden gemaakt voor directe vloeibare lpg-injectie. Na die aanpassing verbruikt de EcoTuk 40% minder brandstof. De vervuiling neemt evenredig af. Aan de prijs is een geldbedrag verbonden van €10.000. Namens de studenten nam Rick Schuurman de prijs in ontvangst.